Blue Magic (cyanotype printing)
30th of April 2021

Few old analogue techniques for photography are as easily facilitated as cyanotypes and produce such beautiful results. Here's my own first dip of the toe in the blue magic.

We spent Easter by the Westcoast of Denmark, and as much as I love the horizon, the heath is also a top favorite to stare into. Here, ferns and moss collected for cyanotype prints.
In a naive attempt to lure my kids into a passion for photography, I decided to give cyanotype printing a go this Easter. It's almost become a mainstream pastime and workshop theme for the past few years, but somehow I never got around to it. Maybe it is too beautiful and characteristic in itself to inspire me, maybe I was just busy doing me some digital alchemy instead. Whatever the reason, I thought it would be a perfect activity for the family… (only, they didn't take the bait, so I did it alone).
As this was my first go, I opted for a kit made by
Maibritt Amsler
, who I found on her Instagram account. So far, I find, that I have plenty of emulsion from the kit. PLENTY. It is a cool little kit for trying it at home; the only thing missing was a light-blocking box or plastic bag.
Seaweed. Not a great success. This time.
From this first go, I learned a couple of things:
1. Direction of light matters. My prints were kind of wooly and I suspect the direction of light is to blame. I exposed the papers in a side light, and I would have had a lot better results if I had tipped the wooden base towards the sun more directly.
2. Objects for printing need to lay flat - really flat – against the paper. Going back to the wooly prints, I also think that I was being too careless about getting the object close to the surface of the paper. I thought seaweed would make the most beautiful pattern. I always collect them in this region, draw them and stuff, because the jet black strings with air bladders and the much thinner 'string' are just such eye pleasers, but really, the air bladders just lifted the whole thing away from the paper and you'd never guess what made the fuzzy white marks.
More moss. I feel compelled to say, that I didn't pull it out of the ground. I found pieces that had been dug op already.

I feel pretty confident that next time, I'll do better. In the meantime, here's some background information.
The cyanotype technique – sunprinting – was invented by
John Herschel
in 1842. Not only a man with
expressionistic hair
, he also took part in the contemporary search for methods to reproduce images, notes and such. Anna Atkins was, as many people now know, the first to use the method to produce an entire
book of cyanotypes
, a work that took years to complete, but imagine, she started 1843, only one year after Herschels introduction.
I love thinking about the buzz in those nerdy circles then, how they must have been equally eager to boast their achievements and also really anxious to be first and best with discoveries and productions. Techniques like these are invented by real people, though real experiments and passion, something that is easily lost when history is summarized.
As much as I am a proponent for artists to communicate their process, I guess I am also a proponent for biographical stories of makers, artists, scientists etc. I think it all helps to give more depth and insight into what is often a whole universe of creation, motivation, collaboration, environment and understanding.
As far as cyanotype goes, it is at this point not super interessting as a medium for new work, but it is cool for making experiments (After my first attempt, I boiled a lettuce leaf and made a beautiful print of the structure) and I also always find myself looking for image making techniques that are easy to do on the weekend.
---
First Photograph Ever
25th of March 2021

Researching for an article on the hybrid forms of contemporary photography many years ago, I came across a version of Niépce's - and the world's - first photograph, which I had never seen before: A documentation photograph of the 20 x 25 cm pewter plate covered with bitumen emulsion, on which Nicéphore Niépce rendered the view from his window in Saint-Loup-de-Varennes in 1827.
Here it is!!!
.
Previously I had only seen the regular black and white rendition of this photograph, and so I was excited to see the round corners, bluish hue and scratched surface of the tin plate, which has lived through nearly two centuries of world history.
The original, metal plate appeared to me to be an object incorporating a highly poetic and productive gap. On the one hand, there is the object, the metal mélange with the layer of bitumen, which the sunlight has solidified onto the surface, scratched and irregular and with three strange dents pushing through the image plane.
On the other hand side, there is the represented view of a French country estate. The sensual materiality of the plate anchored in space and time reaching out towards the visually traced memory of daylight on a roof in France many years ago.
Interestingly all early photographs bore a fat stamp of materiality, in that they were difficult to see, poisonous to develop, and hard to preserve. However ephemeral the images must have seemed, the object itself belong very much to the material world.
Historically the materiality of photography took the backseat, and we have loved photography mainly for it representational properties. In line with the recent developments in photographic practice, photography could be reemerging as phenomenons, which hold a productive gap open: the gap between the materiality of the photographic object and the photograph as a representational tool, a memory holder, and a document?
---
Lyngby Revisited - taking down "De tavse ting"
5th of February 2021

It's not so sad to take down an exhibition, where the visitors left you a little something!
For the exhibition "De tavse ting" (Silent Things) in Lyngby-Taarbæk City Archive, words played a big part. I had written a whole room full of small prose texts about archives, about loss, bees, fire, colors blue and yellow, about personal history and collective memory and more, and it was all pinned to a wall as shown above.
I had then also made a copy of all the text on grey paper, cut of all the sentences and left them as part of the installation and with no instruction to either touch or not touch.
When I came back after christmas to take everything down, people had been adding to the exhibition by making new sentences from all my words. If you were one of the contributors: thank you! What a treassure!
---
"The Boy's Femur" in new exhibition
27th of January 2021

"The Boy's Femur" will be part of the exhibition "Aftryk og Spor" at DGI Byen in the spring.

The exhibition is curated by Linda Hansen and Mette Juul Søndergaard on the concept of showing works, that combine text and photography. The other exhibiting artists are Tina Enghoff, Linda Johansen, Kristina Bengtsson - And Mette and Linda themselves. Linda has worked with writer Majken Abildgaard on a collaborative project.

Here are a few more images of the book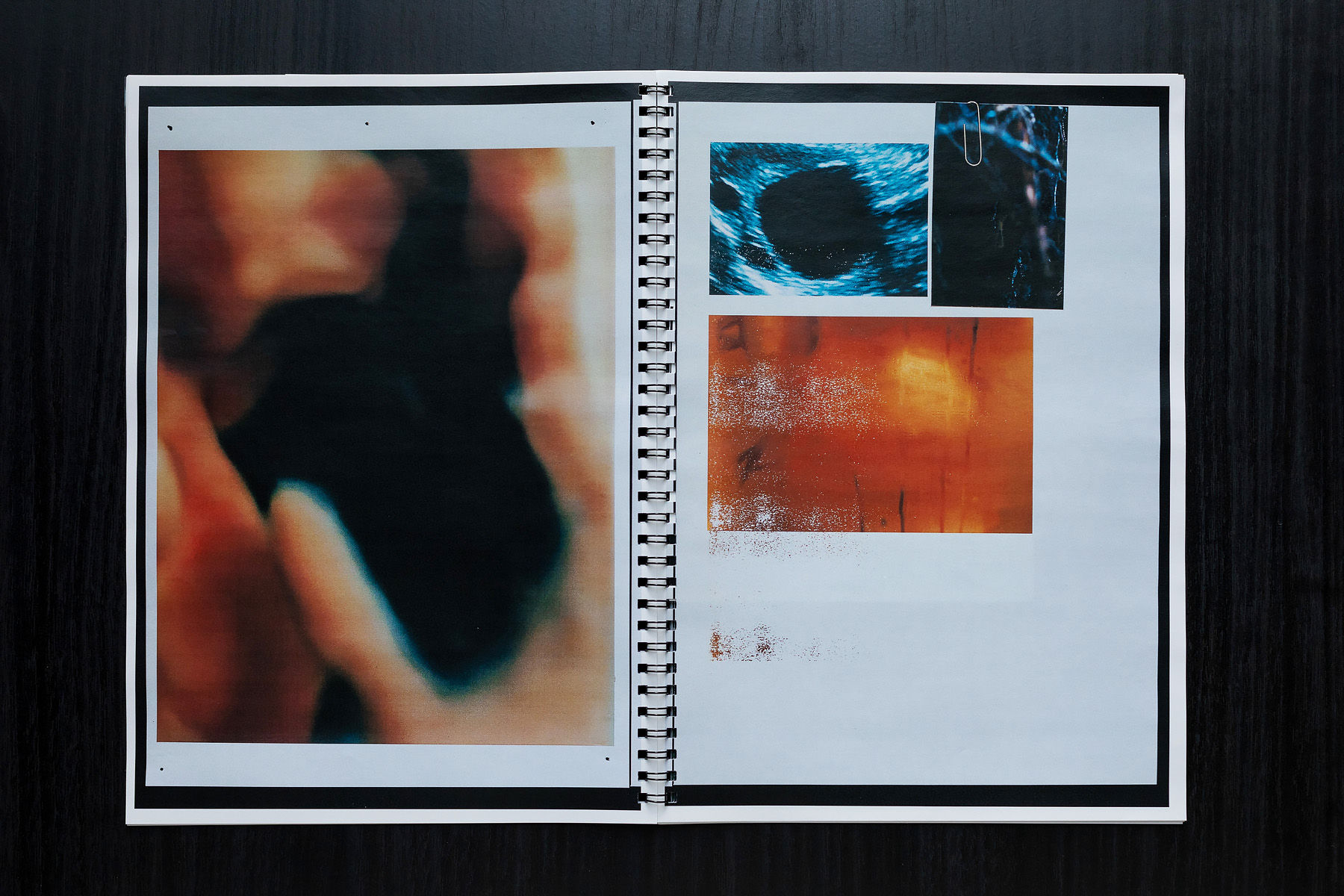 The exhibition is expected to be up around April - all depending on the pandemic.
---
"New Tactics - moving in a soft field" in new book
3trd of February 2021



I am thrilled to see the exhibition "New Tactics - moving in a soft field" mentioned in the new and gigantic book on contemporary Danish art, "Berørt", written by art historian Maria Kjær Themsen.


I curated the exhibition as Galleri Image's contribution to Fotobiennalen 2018 and it featured new works by Kristoffer Ørum, Nanna Lysholt Hansen, Sandra Vaka Olsen and Valérie Collart.

For the exhibition, we created a book of interviews in Danish and English, and this can still be purchased through Galleri Image.
One of the artists, Valérie Collart is currently exhibiting a sibling to the work in "New Tactics" in the exhibition "In a Slow Manner" curated by Henriette Noermark Andersen in Paris.
---