Photobook Week Aarhus 2021
1st of November 2021

Photobook Week Aarhus is a long weekend of exhibitions, lectures and conversations about photobooks organized by Galleri Image and The Aarhus School of Architecture. An opportunity to dig deep into both new and historical books. I attended the festival this year and a workshop leading up to the festival too.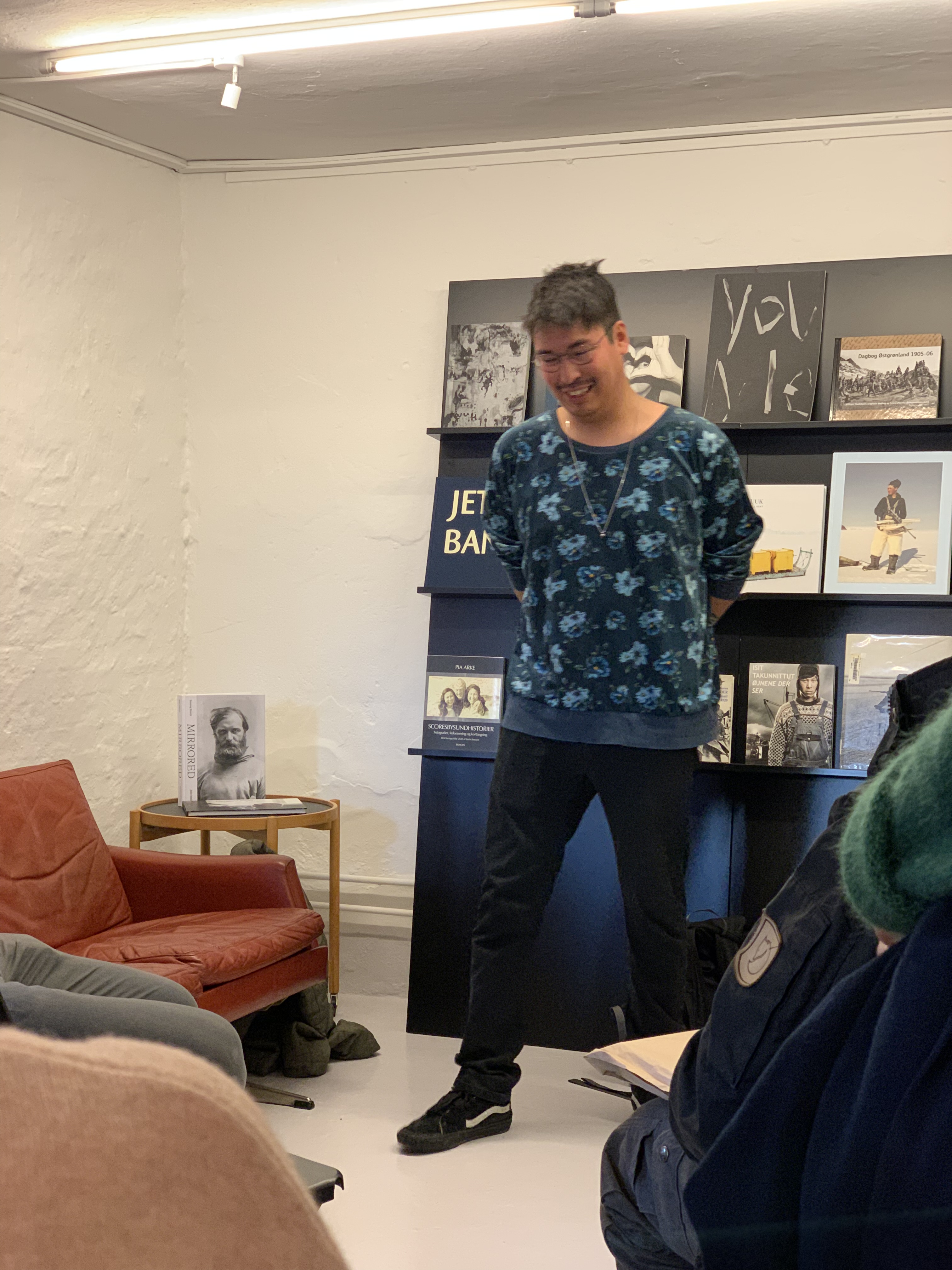 Inuuteq Storch presenting his curation of photobooks about/from Greenland

On the Friday, there were artist talks with the three curators of photobook exhibitions taking place at Galleri Image: artist
Inuuteq Storch
had curated books by Greenlandic photographers (and a few danes too). Inuuteq has a highly personal way of introducing his work and ideas, a true storyteller, and at this event, he poetically weaved together small stories and observations about his life, ultimately to describe the difference between telling stories about a place from the inside and the outside view. His current exhibition at Galleri Image, a solo show, shows this in his own images.
Photo from Galleri Image by Ib Sørensen

Daria Tuminas presenting her curation. Behind her work by Sanne van den Elzen.
Daria Tuminas
, an Amsterdam-based independent curator, introduced her curatorial idea centering on movement, female artists and the photobook. She presented a
beautiful work
by
Sanne van den Elzen
and I also really enjoyed seeing the book
'so it goes, so it goes'
by Miho Kajioka – to which
artist Lise Baltzer
had some pretty cool insight, namely that Miho Kajioka apparently makes 100 dummies of a book before publishing it! I loved it, semi-transparent pages and delicate grey tones.
Kyungwoo Chun
introduced per Skype connection from Korea an extensive presentation of his books, all meticulously bound and with accompanying works on the walls.
Saturday was workshop day for me. For the previous weeks, I had checked-in to online sessions with
Paula Roush/MSDM
, who conducted the workshop, and with
Kati Leinonen
,
Uta Genilke
and
Tjitske van Leeuwen
, my fellow workshop participants. Each week, we shared our thoughts and progress from our own studios and homes, and for me, this was just perfect. It created a seemless process where we could easily meet and then still be surrounded by one's own tools, computer and materials.
Paula planned the workshop (and all her other work, I suspect) from a non-hierarchical standpoint placing each participant as the expert in their own material. She introduced the idea on the first day, that the book *already exists* and that our task is simply to work backwards to bring it into physical being with the belief that we will make the right decisions instinctively – from already having the book inside us. This method was highly efficient and also a very pleasant way of working!
I had decided to use the workshop to create a dummy for a project that has been presented as an exhibition in 2020 (the exhibition title was
"Silent Things"
but the book will have another, yet undecided title). It explores how images and objects scaffold our identity and sense of self – and what happens, when the scaffold falls. The book weaves together of the documentation of objects in a public archive with the loss of my own photographic studio and archive.
The book, I worked on.

It felt incredibly daunting to start this project. The material has built up since 2017 and has led my down 500 different ideas and experiments. The exhibition was designed as a very open and tactile experience with layering of glass, prints, text and video – and how does one translate that into book form?? Well, for this workshop, I ended up creating five separate chapters, individually bound, each unfolding one aspect of the project. I still need to do the last chapter, I just started this work here late October.
In Aarhus, we met up and finally saw each other's work and could meet for real. It was super interesting and pleasurable to actually meet. All the books were presented as part of Sundays program at the Open Book Market.
Photo by Ida Nissen - see her work here: www.idanissen.com

Photo by Ida Nissen
View of Tjitske van Leeuwen's project about organic farmers.
However, I want to also mention the other workshop, I participated in. This too was an online workshop but conducted by
Alexandra Athanasiadou
, who runs Philosophy Photography Lab. The workshop centered on how artists can employ inquisitive methods from philosophy and critical thinking to improve artist statements. The group was made up by people from Denmark, Finland and Iceland – and again the online format worked superbly. Screen sharing, short individual writing sessions and group discussions took us further and further into the core of each of our projects.
Alex has a brain like a razor blade, cutting right through each paragraph and focusing in on each individual sentence to sharpen and (in my case) shorten the texts. For someone who usually does quite a lot of writing on my own, the sense of companionship and guidance in the process was a wonderful experience that I wouldn't mind repeating.
If any of these two workshops are offered again, I highly recommend them both!
On Sunday, the open book market was on. When you spend a whole day surrounded by tons of wonderful books, your credit cards starts to sweat from fear of being ripped to pieces and your suitcase fears the load of all the books,
you just really need
. This time, I managed to keep a lid on the book desire but I am not saying it was easy.
Many more things happened, many more books and great people, which I hope to all meet again. Maybe next year!
---
Gerhard Richters "Atlas"
16th of September 2021

Here's the book that caught my eye this morning, as I was picking up laundry from the floor, and my eyes grazed a low bookshelf. Today, this is my daily book meditation..

"Atlas", the monumental image collection made by Gerhard Richter. A massive, gigantic collection of sketches, news clippings and photographic images gathered since the 60'ies, which feels something like the explosive meeting between a sketchbook and a full-fletched body of work. He
has said
: "In the beginning I tried to accommodate everything there that was somewhere between art and garbage and that somehow seemed important to me and a pity to throw away."
What fascinates me the most (at the moment) with this body of work is the flexibility of it. On the one hand, how a small print is turned into a full-scale installation in a sketch, just by adding lines of perspective around it.
And also, the variety: family photos, landscapes, a candle, paint, clouds and architecture and much more. As such, it really does seem to be a personal atlas. I like artists who do not limit the scope of what motifs they can bring into their work. Anything can run into their practice and will be colored by what is already there, and also contribute to an expansive universe. That to me is one, beautiful type of artistic freedom. Richter seems to do it totally effortlessly – but maybe that's just the lure of the printed, edited book?
https://photobookweek.org
---
Blue Magic (cyanotype printing)
30th of April 2021

Few old analogue techniques for photography are as easily facilitated as cyanotypes and produce such beautiful results. Here's my own first dip of the toe in the blue magic.

We spent Easter by the Westcoast of Denmark, and as much as I love the horizon, the heath is also a top favorite to stare into. Here, ferns and moss collected for cyanotype prints.
In a naive attempt to lure my kids into a passion for photography, I decided to give cyanotype printing a go this Easter. It's almost become a mainstream pastime and workshop theme for the past few years, but somehow I never got around to it. Maybe it is too beautiful and characteristic in itself to inspire me, maybe I was just busy doing me some digital alchemy instead. Whatever the reason, I thought it would be a perfect activity for the family… (only, they didn't take the bait, so I did it alone).
As this was my first go, I opted for a kit made by
Maibritt Amsler
, who I found on her Instagram account. So far, I find, that I have plenty of emulsion from the kit. PLENTY. It is a cool little kit for trying it at home; the only thing missing was a light-blocking box or plastic bag.
Seaweed. Not a great success. This time.
From this first go, I learned a couple of things:
1. Direction of light matters. My prints were kind of wooly and I suspect the direction of light is to blame. I exposed the papers in a side light, and I would have had a lot better results if I had tipped the wooden base towards the sun more directly.
2. Objects for printing need to lay flat - really flat – against the paper. Going back to the wooly prints, I also think that I was being too careless about getting the object close to the surface of the paper. I thought seaweed would make the most beautiful pattern. I always collect them in this region, draw them and stuff, because the jet black strings with air bladders and the much thinner 'string' are just such eye pleasers, but really, the air bladders just lifted the whole thing away from the paper and you'd never guess what made the fuzzy white marks.
More moss. I feel compelled to say, that I didn't pull it out of the ground. I found pieces that had been dug op already.

I feel pretty confident that next time, I'll do better. In the meantime, here's some background information.
The cyanotype technique – sunprinting – was invented by
John Herschel
in 1842. Not only a man with
expressionistic hair
, he also took part in the contemporary search for methods to reproduce images, notes and such. Anna Atkins was, as many people now know, the first to use the method to produce an entire
book of cyanotypes
, a work that took years to complete, but imagine, she started 1843, only one year after Herschels introduction.
I love thinking about the buzz in those nerdy circles then, how they must have been equally eager to boast their achievements and also really anxious to be first and best with discoveries and productions. Techniques like these are invented by real people, though real experiments and passion, something that is easily lost when history is summarized.
As much as I am a proponent for artists to communicate their process, I guess I am also a proponent for biographical stories of makers, artists, scientists etc. I think it all helps to give more depth and insight into what is often a whole universe of creation, motivation, collaboration, environment and understanding.
As far as cyanotype goes, it is at this point not super interessting as a medium for new work, but it is cool for making experiments (After my first attempt, I boiled a lettuce leaf and made a beautiful print of the structure) and I also always find myself looking for image making techniques that are easy to do on the weekend.
---
First Photograph Ever
25th of March 2021

Researching for an article on the hybrid forms of contemporary photography many years ago, I came across a version of Niépce's - and the world's - first photograph, which I had never seen before: A documentation photograph of the 20 x 25 cm pewter plate covered with bitumen emulsion, on which Nicéphore Niépce rendered the view from his window in Saint-Loup-de-Varennes in 1827.
Here it is!!!
.
Previously I had only seen the regular black and white rendition of this photograph, and so I was excited to see the round corners, bluish hue and scratched surface of the tin plate, which has lived through nearly two centuries of world history.
The original, metal plate appeared to me to be an object incorporating a highly poetic and productive gap. On the one hand, there is the object, the metal mélange with the layer of bitumen, which the sunlight has solidified onto the surface, scratched and irregular and with three strange dents pushing through the image plane.
On the other hand side, there is the represented view of a French country estate. The sensual materiality of the plate anchored in space and time reaching out towards the visually traced memory of daylight on a roof in France many years ago.
Interestingly all early photographs bore a fat stamp of materiality, in that they were difficult to see, poisonous to develop, and hard to preserve. However ephemeral the images must have seemed, the object itself belong very much to the material world.
Historically the materiality of photography took the backseat, and we have loved photography mainly for it representational properties. In line with the recent developments in photographic practice, photography could be reemerging as phenomenons, which hold a productive gap open: the gap between the materiality of the photographic object and the photograph as a representational tool, a memory holder, and a document?
---
Lyngby Revisited - taking down "De tavse ting"
5th of February 2021

It's not so sad to take down an exhibition, where the visitors left you a little something!
For the exhibition "De tavse ting" (Silent Things) in Lyngby-Taarbæk City Archive, words played a big part. I had written a whole room full of small prose texts about archives, about loss, bees, fire, colors blue and yellow, about personal history and collective memory and more, and it was all pinned to a wall as shown above.
I had then also made a copy of all the text on grey paper, cut of all the sentences and left them as part of the installation and with no instruction to either touch or not touch.
When I came back after christmas to take everything down, people had been adding to the exhibition by making new sentences from all my words. If you were one of the contributors: thank you! What a treassure!
---